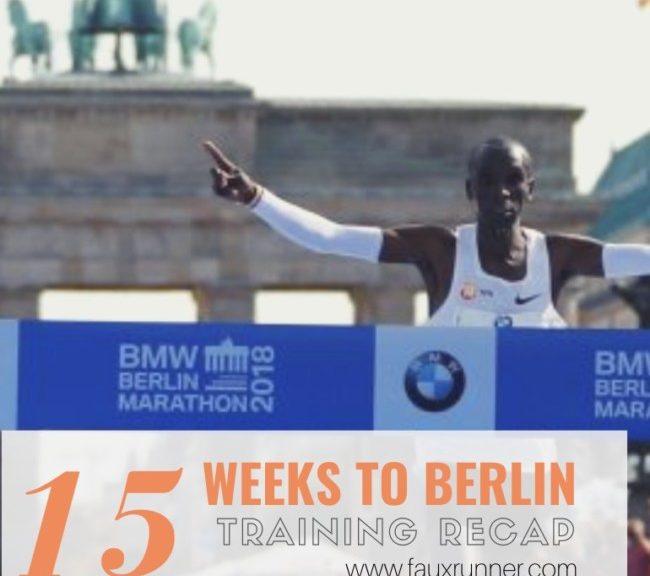 15 Weeks to Berlin: Training Recap
15 Weeks to Berlin: Training Recap
Just when I was so proud of keeping up with strength training sessions, I missed all of my strength training lunchtime bootcamp last week due to sickness and also this week. A team lunch, a work meeting and emotional drainage took precedence over the 30min sessions. But I alteast got my runs in and maintained my routine and cadence from the past 2-3 weeks.
Monday: Yoga followed by a 3 mile treadmill run
It was the worst treadmill spot ever without an ounce of air circulation. I was dripping sweat half a mile in and the rest of the run was just a "just run until the episode runs out"; even though I was only running at 4.6mph with 2min run-30sec walk intervals.
Tuesday: 4 x 800m repeats
Bad sleep overnight. Had no idea why I kept waking up over and over. Still made it to track thanks to one other girl who met me in the early dark.
I ran by effort of how a 800m repeat would feel like. I could've maybe done the 1st and 2nd repeat a couple of seconds faster, but no way could I have done 5:25. (I did an extra one coz I was wondering how on earth could I run for 1hr 10min when warmup 20min and repeats only took me 45min and 25 min of cool down felt weird, so I assumed that I misread the number of repeats)
It was a good workout and I put in honest effort, but it made me very very very sad because I used to be able to run 5:15-5:25 for 10 repeats a few years ago 🙁 I know that the body never is the same, but still ….
Wednesday: A rare run in the evening and an even rarer one with my kid
My sleep has been on-off! Last night I had a migraine and I took Tylenol PM to get through it (I usually take a milder version) and it knocked me out for the night! And I overslept and was sleepy all day at work and stressed about getting my girls to summer stuff, and took a nap on the couch after work; all without having run all day!
I usually set up a date with a friend to run in the morning as that will MAKE me get out of bed and finish that run off, but today he was riding instead and I overslept.
Luckily, the weather was great in the evening. Overcast and low humidity. And I persuaded my 13yo, who's decided that she doesn't like running anymore ?, to join me on my run today.
We ran for Gabe and Amazing Grace, two athletes who inspired everyone around them with their fight against cancer. And her friend's dad, and Shannon.
We talked about running for those who no longer can, about running for who fought with every breath to be able to run, about running for something other than personal goals, about running to find an answer to the WHY that NEEDS to drive us.
A lot of heavy thoughts for a teen who just wanted to talk about the awesome 13-0 and her heroes from the game. But I hope that some part of it stays in some corner of her brain and heart. To be able to run is a privilege and I hope she comes back to running someday to honor those who cannot.
Thursday: Off and skipped Bootcamp
Friday: 4.x miles with 1 mile tempo effort
I had noticed that the past 2-3 weeks I didn't get my Friday run in for whatever reason (kids' camp, sickness), so I am just happy that I got to run even if I started out 40min past my planned time! Empty stomach run and perfect temps (had to switch out a tank top for a short sleeved one) and low humidity.
Garmin pacing was completely off. After 1 mile, I started tracking with Strava and it showed how up and down Garmin went. At one point in the first mile, Garmin said I was running at 16:30 pace and then it said 2nd mile was in the 12s. I'm betting both 1st and 2nd mile was ~13:20-13:40 that I averaged for the whole run. I have the Garmin vs. Strava comparison screenshot side by side that I can PM you for kicks.
I was going to do my lunchtime bootcamp, but I had a little bit of a strong meeting at 11:30-12noon and I was left too emotionally drained even to go in for getting some physical de-stressing.
Saturday: 9 miles
I carried home a lot of stress and baggage from the previous day at work and it affected me so much. I usually am good at managing work and life but yesterday was just a $hitty unexpected situation. It kept playing on my mind over and over and over all night and into the morning.
This is going to sound bad, but I didn't really care about my run or how I ran. All I cared was race day is 100 days out and I need to get my long run in. My run is usually my destress but I didn't even feel it.
The weather wasn't as bad as 8am could get but I was just blah. I put on some classical concertos and just ran on auto pilot. I don't know if that's all my legs had today or if I had more and my mind and legs weren't talking. It "felt" like I was running :30/mile faster than what Garmin said (I usually have a very good gauge), but maybe my energy was being diverted away from my legs and to my emotions.
There were quite a few times when I randomly burst into sobbing tears during the run, like I'd be running and then a crescendo would hit in the music and I'd cry for a bit and recover and then another piece of music and another cry. It was sort of my own emotional therapy session. (I'm a cryer at times during a run, sometimes happy-I-can't-help-it tears and sometimes ugly sobs like today)
I got over it all about 1:45 min through the run and finally was able to smile at a husky who'd plopped down in the middle of the trail, refusing to move, as it's parents were coaxing it – just like my human kids ?.
But by that time, sun was high, I was drained and just glad to be done.
I was thinking I'd get in ~9.5 miles in that time and would've liked to round it to my double digit of the season. But I will have to wait for another week for double digits.

---
These are some of the weekly linkups hosted by great bloggers. Check out some of the posts in the linkups.
First Saturday of each month –Confessions of a Mother Runner and Coco at Got2Run4Me for The Ultimate Coffee Date.
Monday
Meatless Monday – Confessions of a Mother Runner and A Whisk and Two Wands
Tuesday
Tuesday Topics Linkup – KookyRunner and Zenaida
Wednesday
Running Coaches Corner – Coach Debbie Runs, Train with Marc, and Crazy Running Girl
Friday
Fridays with Fairytales and Fitness
Sunday
Weekly Run Down Link Up – Confessions of a Mother Runner and Kim Runs On The Fly.
(Visited 44 times, 1 visits today)