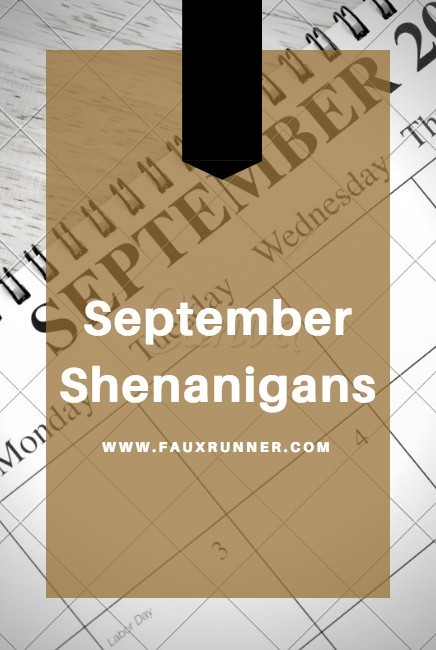 September Shenanigans
September Shenanigans
Do you know what is harder than to start running after a break? Blogging after a break! I keep telling myself that I'm going back to my old schedule of 3 posts a week or to get inspiration from the other bloggers that I follow. But it's been virtually non-existent, almost like I have writers block.
It also doesn't help that I write what I feel and about my experiences and with the injury, my thoughts are almost all consumed by it. Everything that comes out of my head is related to whining about it, and every thought is consumed by prayers for it to go back to 6 months ago. Those aren't too happy thoughts to write and so I've avoided writing.
I am determined however to pick back up writing – like running, I love writing for the release it gives me, not to be a popular blogger or be an influencer. So here we go as I pick an easy end of the month topic to write about. And as September is one of my favorite months of the year, it should help me write it my thoughts out!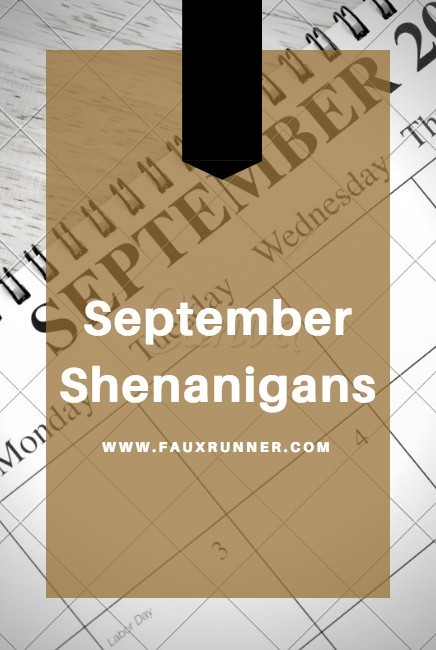 September is my Birthday month
Every year, for my birthday weekend, I ask for away time to attend Dragon Con that is held in Atlanta over the labor day weekend.
Every year, I get a long weekend getaway trip.
This year was a trip to Clearwater Beach, Florida that had its comedy of errors in the beginning with an AirBnB reservation that was actually for a motel and not a home that Mr. FauxRunner assumed it to be when he booked it. Luckily, we were able to sort it out and moved into the Wyndham Grand nearby (yay for Hotwire's "secret" hotel deals!). The highlight of our trip was going parasailing; for someone afraid of height especially when legs are off the ground, I absolutely loved it.
September is the beginning of Fall and cooler temperatures
All lies!!!
There was maybe ONE day of temps in the low 70s instead of mid 70s at 6am with no change in humidity. Every single run has been soaking dripping wet and 5 of my long runs have ended in misery, not to mention the chaffing.
September is the beginning of Fall racing season
With the extra stress of work, sick kid and the miserable training cycle, I wanted a getaway where I'd be around people and went down to Augusta to cheer at the 70.3. Augusta 70.3 is one of my favorite races made more favorite by the amazing people who embraced me on my quest 3 years ago. I had not seen many of them for years and had kept in touch with some of them, but seeing familiar faces and places was a much needed day! Pity I didn't take any photos – completely unlike me!
I planned to go out to Chattanooga Ironman to cheer the weekend after, but a sick kid and traveling husband bound me home even as I tracked about 31 people on the online tracker and streamed a great Men's Pro race (no women pro racers at Chattanooga this year, just like there were no men pro at Wisconsin earlier).
---
These are some of the weekly linkups hosted by great bloggers. Check out some of the posts in the linkups.
Monday
Meatless Monday – Confessions of a Mother Runner and A Whisk and Two Wands
Tuesday
Tunes Tuesday (first Tuesday of the month) – KookyRunner, Run With No Regrets and RunSteffRun
Tuesdays on the Run –No Guilt Life, MCM Mama Runs, Marcia's Healthy Slice
Wednesday
Running Coaches Corner – Running on Happy, Suz Lyfe, Crazy Running Girl and Coach Debbie Runs
Friday
Friday Five 2.0 –Running on Happy and Fairytales and Fitness
Sunday
Weekly Wrap up – HoHoRuns and Taking the Long Way Home
(Visited 185 times, 1 visits today)